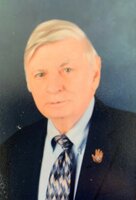 Paul A. Colangelo
Paul A. Colangelo
Paul A. Colangelo, 84, of Rome, passed away on Thursday, October 7, 2021 at Rome Memorial Hospital.
Paul was born in Rome on August 6, 1937 a son of the late Salvatore and Edith (Feole) Colangelo. Paul was raised and educated in Rome where he graduated from Rome Free Academy.
On June 4, 1960, he married the former Sylvia R. Darke, in St. John the Baptist Church in Rome. Their marriage was blessed with more than 57 years prior to Mrs. Colangelo's passing on July 22, 2017. Mr. Colangelo retired from Oneida National Savings Bank in Rome after over 27 years of service. He also held a position for more than 16 years with the Turning Stone Resort and Casino as a Slot Machine Attendant. His memberships include the Lake Delta Kiwanis Club and he served as a Key Club Advisor at Rome Free Academy.
Surviving are two daughters and sons-in-law, Lisa and Mike Riolo, and Michelle and Mark Nashton all of Rome; a son, Paul S. Colangelo of Rome; several grandchildren, great-grandchildren; a son-in-law, Rick Labuz of Rome; and two sisters-in-law, Joyce and Susan. He is also survived by his buddy, John Yano.
He was predeceased by a daughter, Lynn Labuz on December 1, 2020.
A Mass of Christian Burial will be celebrated on Friday, October 15, 2021 at 11:00 a.m. at St. John the Baptist Church with the Rev. Paul Angelicchio officiating. Burial will be in St. Mary's Cemetery. Friends may call at the Nicholas J. Bush Funreal Home, Inc., 7751 Merrick Road, on Thursday, from 4-7 p.m.
The family would like to extend a special thank you to, Johnny, Noah, and Candace at Kekis Citgo, the Rome Memorial Hospital nurses and staff, and Chuck and Audra.
Memorial contributions in Paul's name may be made to the Lake Delta Kiwanis Club, of Rome, P.O. Box 496, Rome, NY 13442.
To offer online condolences, please visit www.njbushfuneralhome.com.