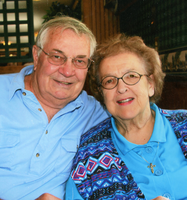 Barbara Jean Wells
Barbara Jean Wells, 89, passed away on December 2, 2021. She was born in Rome, NY, on July 17, 1932, the youngest of ten children of Sebastian and Flavia (Fanfarillo) Galluppi.
Barbara attended St. Mary's Catholic school and graduated from Rome Free Academy in 1950. Shortly after graduation, Barbara was employed at the former Griffiss Air Force Base and worked there for 40 years, retiring in 1990. While working at Griffiss, Barbara received numerous awards for her hard work and dedication. It was at Griffiss that Barbara met her future husband, James Wells.
Barbara and Jim were married on July 6, 1957 at St. John the Baptist Catholic Church with the Rev. John Martin officiating. They had a blessed union of fifty- eight years before Jim's passing on December 7, 2015.
Barbara and Jim liked to travel, taking a month long road trip through the United States, trips to Europe where they got to visit several different countries, trips through New England, and for several years visiting their daughter in Texas. In 2015, Barbara & Jim moved to Houston, living with Sharon and her family. Barbara became everyone's grandmom, mom and friend in Houston and will be missed by all those whose lives she touched.
Surviving are her daughter Sharon Ehmry & husband Mark and her grandchildren, Katelyn (Casey) Buskirk and Aaron Ehmry, all of Houston; her sister Margaret (Dolly) and husband Joseph Mayes, Rome, NY, and several nieces & nephews. Barbara was predeceased by her husband Jim, her parents, sisters & brothers-in-law Frances & John Verminiski, Mary Galluppi, Amelia & Canio Nigro, Carmella & Boyd Wynne, Tomasina Maxim; brothers & sisters-in-law, Louis & Frances Galluppi, Michael (Mit) & Antoinette Galluppi and Joseph Galluppi who was killed during World War II; sisters-in-law Catherine & William Nevels, Patricia Wells, and brother-in-law Vincent Wells.
A rosary service was held for Barbara on Sunday Dec. 5th at St. Bernadette's in Houston.
A Mass of Christian Burial will be celebrated on Friday, December 10, 2021 at 9:30 a.m., at St. John the Baptist Church, Rome, NY, with the Rev. Paul F. Angelicchio officiating. Burial will be in St. John the Baptist Cemetery. Friends may call at the Nicholas J. Bush Funeral Home, Inc., 7751 Merrick Rd., Rome, NY, on Thursday, December 9, 2021 from 4-7 p.m.
To offer online condolences, please visit www.njbushfuneralhome.com