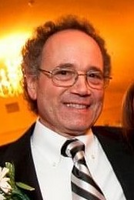 John J. DeLutis
John J. DeLutis, 65, of Syracuse, NY, passed away Wednesday, December 8, 2021 at home, surrounded by and enveloped in the love of his family. Though devasted by his passing, his children and their spouses are grateful for the honor of caring for their father throughout his long and difficult journey. John was born in Rome, NY, on February 19, 1956, son of Richard P. Sr., and Bridget (Cannarozzi) DeLutis.
John grew up in Rome, NY, and graduated from Rome Free Academy in 1974. He attended St. Luke's School of Radiologic Technology and earned his license to work as Radiologic Technologist. In 1976 he moved to Syracuse and began his career at Community General Hospital. In 1981, John gained employment at Crouse Hospital where he worked in the diagnostic radiography, fluoroscopy and computed tomography departments until he retired in 2016. John left a legacy at Crouse and will forever be missed by those who knew and worked with him.
One of John's favorite pastimes was listening to music and "jamming" with friends and loved ones. A gifted guitarist, John also taught himself to play drums, piano and harmonica. His love of music, especially rock and roll, motivated him to attend hundreds of concerts, often joined by one or both of his children. John was extremely proud to share his love of music with Dan and Kate.
John found great joy in some of life's simplest pleasures; hiking in some of New York's many parks, making use of his green thumb to grow delicious tomatoes, Sunday dinner's with family, or using his vast knowledge of American History and political science, to take part in lively debates over politics. A model train enthusiast, John not only crafted intricate layouts for his HO scale trains but also loved taking his Nikon camera around the state and photographing variety of trains.
John loved his children unconditionally and was a proud and engaged dad. His support of his children's pursuits went beyond attending every band concert, school plays and Little League games. He also lead Cub Scouts and Campfire groups and spent numerous hours volunteering his labor to help build their schools wooden playground. In addition to his kids greatest joy in life was spending time with his grandchildren Sasha and Niko.
John's family is profoundly grateful to the incredible and caring staff of Hospice of CNY and would ask in lieu of flowers please consider a donation to the Hospice Foundation of America or Alzheimer's Foundation in his honor.
Surviving is his son Daniel (Jessica) DeLutis, Syracuse, a daughter, Katherine "Katie" (Matthew) Madonia, Liverpool, his mother, Bridget DeLutis, Town of Lee, beloved grandchildren, Sasha and Nikoli Madonia, a brother, Richard "Rick" DeLutis, Jr., Town of Lee, a sister, Nancy (James C.) Rank, Webster, NY, his ex-wife and dear friend, Eva (Salvagni) DeLutis, Solvay, his nephew, Michael Rank, Russell, NY, niece, Bridget Rank, Albany, cherished friends and many good dogs.
Funeral Services will be held on Sunday, December 12, 2021 at 5:00 p.m., at the Nicholas J. Bush Funeral Home, Inc., 7751 Merrick Rd., Rome, NY. Friends may call at the funeral home on Sunday, December 12, 2021 from 2-5 p.m. Burial will be in St. John the Baptist Cemetery, Rome.
To offer online condolences, please visit www.njbushfuneralhome.com