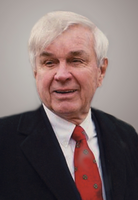 Dr. Joel P. Amidon
Dr. Joel P. Amidon, 84, passed away peacefully on Saturday, June 4, 2022. He was born in Rome, NY, on July 8,1937 son of the late Charles Donald and Grace Livingston Amidon. Joel was married to the former Elaine Lauri from 1958 to 1996.
Dr. Amidon was a graduate of Rome Free Academy and continued his education at Utica College and then the Philadelphia College of Osteopathic Medicine. He practiced Family medicine in Rome for 39 years and was a well-respected and beloved Physician. As a youth, Joel was a talented basketball player and all-around athlete. He was also an accomplished carpenter and builder, and he greatly enjoyed music, especially opera and Sousa marches.
Surviving is a daughter, Lauri Amidon, three sons, Dr. Joel P. Amidon II, Dr. Jeffrey D. Amidon, and Thomas M. Amidon, his sister Mary Faith Vickerson, and his longtime companion Tammy Young. Joel enjoyed spending time with his wonderful large and loving extended family that includes many grandchildren, great grandchildren, nieces, and nephews. He was predeceased by his three brothers, Donald, Robert, and Kevin Amidon.
The family wishes to thank his caregivers from Nascentia and Hospice as well as those who provided comfort to Joel and his family in his final days.
In lieu of flowers, memorial contributions may be made in Dr. Amidon's name to: Symphoria, 234 Harrison Street, Syracuse, NY 13202 as Joel was a benefactor of the Syracuse Symphony.
A Funeral Mass will be celebrated Thursday, June 9,, 2022 at 11:00 a.m., at St. Peter's Church, 200 North James Street, Rome. Family and friends may call at the Nicholas J. Bush Funeral Home, Inc., 7751 Merrick Road, Rome, on Wednesday June 8, 2022, from 4-7 pm. Private burial will be in St. Peter's Cemetery.
To offer online condolences, please visit www.njbushfuneralhome.com